The
ftm

2010 Greatest Hits




The BBC has been criticized at home for sending some 25 people to the Chile mine disaster and throwing money at its coverage but, no matter where you are in the world, if you really wanted to be "there" then there was just one channel to watch – BBC World. And it really put CNN's so-called continuing coverage to shame!

Rupert Murdoch makes no secret the editorial changes he has made at his Wall Street Journal are intended to topple The New York Times as America's newspaper of record. But the "Gray Lady" until now has mostly ginned and bared it but suddenly with an investigative report months in the making she has sunk her teeth viciously into Murdoch in the UK some 3,000 miles away from the main New York battlefield. The resulting hoop-la has the UK government, Parliament, Scotland Yard, politicians and celebrities all in a tizzy and for a change it is Murdoch's News of the World tabloid finding itself defending itself from newspaper allegations.

Let's face it, repetitive news on the half-hour is, well, boring, but for the British, who are used to a losing prime minister immediately packing his bags and the moving trucks loaded outside 10 Downing Street, the political bargaining over the past five days was riveting and the UK's two 24-hour news channels really came of age.

French taxpayers subsidize newspapers to the tune of some €600 million annually – a government report said it's like keeping the press in a state of "permanent artificial respiration" – but the newest initiative, aimed at getting the young to read print again, seems to be working.

Frankly, it was journalism at its most disgusting – a former girl friend invites the head of the English Football Association (FA) and leader of its 2018 World Cup bid to a private lunch, she carried a secret wire, he talked about some extremely damaging international football bribery allegations, she sold that to a Sunday newspaper for £75,000, he had to resign and justifiably the newspaper got lambasted for an exclusive story that may well have destroyed the 2018 bid.

For expatriate Americans and for others staying up late who were into Americana, CNBC Europe had for many years the best daily American hour of TV starting at midnight CET with a half-hour commercial-free Tonight Show with Jay Leno followed by the NBC Nightly News with Brian Williams on the half-hour live – which did unfortunately mean with all the commercial breaks. Leno's monologue and NBC's newscast -- about as diverse but accurate a read on what America is thinking as any you would likely find within an hour on the dial.

The UK Parliament passed the long awaited Digital Economy Act, presumed to stimulate economic activity in and around the digital realm. Even the manner in which it was threaded through the political needle reveals more about 'act' than 'digital' or 'economy.' It's the reason politicians and bankers are held in such high esteem.

So Rupert Murdoch has finally announced what the entire newspaper industry has been waiting for -- his pay wall scheme for his two UK quality newspapers. Success will be determined not by the hoards that leave the site, but rather by the resulting bottom line mix of subscription revenue and advertising. Or put another way, will the resulting subscription revenue much more than make up for the decline in the resulting advertising revenue?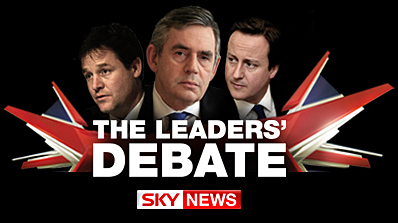 For all the talk the Brits make about their democracy they have never held a nationally televised debate between the major party leaders during a general election campaign, but that comes to an end Thursday night when the ITV terrestrial commercial network hosts the first such event.

A world record for street singing made the headlines during the German music industry trade fair Popkomm. Singing for ones supper, literally or figuratively, may be the norm for the lesser known artists and performers. Music industry executives and their lawyers have a different tune.
---
---
We've Gone Mobile - And Nothing's The Same – new
Consumers have taken to smartphones in huge numbers. Competition among device makers, telecoms and content producers has created an insatiable demand. With so much volume markets are fragmenting... and nothing's the same. 152 pages PDF (August 2015)
The BBC – new
Few pure media brands transcend borders and boundries to acheive the iconic status of the BBC. The institution has come to define public service broadcasting. Yet missteps, errors and judgment questions fuel critics. The BBC battles those critics and competitors and, sometimes, itself. 155 pages PDF (August 2015)
Europe's Radio - Southern Europe
Radio broadcasting in southern Europe ranges from highly developed to developing highly. Italian, Spanish and Portuguese radio is unique, creative and very popular. Radio in Croatia, Serbia and Greece has had ups and downs. The ftm Knowledge file includes Resources. 126 pages PDF (June 2015)
Google Is... Still
Google's leaders say their goal is to change the world. And they have. Far more than a search engine, Google has impact over every media sector and beyond, from consumer behavior to broadcasting and advertising to newspapers. That impact is detailed in this ftm Knowledge file. 116 pages PDF (April 2015)
More
ftm

Knowledge files here
Become an
ftm

Individual or Corporate Member and order Knowledge files at no charge. JOIN HERE!

ftm Knowledge files are available to non-Members at €49 each.