ftm

Radio Page - week ending December 1, 2017

Big national radio channels extended their leads in the most recent Polish national radio audience estimates. Networking certainly has its benefits. More of that is to come as new FM licenses are awarded.

Market leader RMF FM showed a continued strength in the August-October Millward Brown Radio Track market share estimates, compiled by wirtualnemedia.pl (November 14). Year on year the national channel rose to 25.5% market share from 24.2%. RMF FM was the first commercial radio channel licenses in Poland, appearing in 1990, and is owned by Bauer Media.

Also with a strong increase was Radio Zet, owned by Eurozet (Lagardère), in second place nationally with 13.9% market share up from 13.0% one year on. Youth-oriented network Radio Eska placed 3rd, 7.8% market share from 6.7%. Results for Warsaw-based Eska Rock are now combined with Radio Eska. Dance music channel Vox FM fell to 3.8% market share from 4.5%. (See Poland national radio audience trend chart here in Resources)

Main channels of state broadcaster Polskie Radio (PR) fell significantly. Full-service PR Jedynka dropped to 4th place, one year on, 7.7% market share from 8.8%. PR Trojka, once a highly popular alternative music channel, dropped to 6.5% market from 7.1%. Programming was adapted last year to the conservative wishes of the current Polish government, followed by street demonstrations by former fans. (See more about media in Poland here)

Media regulator KRRiT approved increased FM distribution for RMF Maxxx, owned by Bauer Media, effectively make it a national channel, reported wirtualnemedia.pl (November 29). Eurozet was granted a ten year FM concession for Meloradio to operate in Gizycho, north-east Poland. Meloradio was re-branded from Zet Gold in September. The KRRiT extended the concession for Radio 90 FM, operating in southwestern Poland. Two FM frequencies have been set aside for religious broadcasting in the southern Poland touristic region Swietokrzyskie Voivodeship.

A new public radio channel has popped up in the Spanish province of Valencia. A Punt Radio has been in test mode since mid-November, just music and occasional announcements, with full-fledged broadcasting expected sometime in December. A director for the new public broadcaster - Empar Marco - was hired in February. A website has already appeared, mostly for children, and a television channel is promised by April.

A Punt Radio and TV will, when completely rolled-out, serve the semi-autonomous Valencian Community, comprised of provinces Valencia, Alicante and Castellon in east-central Spain. Most of Spain's semi-autonomous communities have public broadcasters, typically with one to three radio channels and one or more TV channels. The Valencian Community is the fourth largest semi-autonomous region by population, following Madrid, Andalusia and Catalonia. Test broadcasts are operating on three FM frequencies, one in each province. (See more about media in Spain here)

The region had been served by public broadcaster Radiotelevisión Valenciana (RTVV) until four years ago - November 29, 2013 - when the regional government pulled the plug. A very cheeky El Mundo (November 26) highlighted the number of days missing - 1,462. RTVV had operated two radio channels - Nou Radio and Si Radio - and several TV channels. The Valencian government tried to revive RTVV in 2015, which failed on arguments about independence from politicians.

Still at the last moment there arguments remain. Unions want former RTVV employees given priority in staffing. A annual budget has been set at €55 million, the proviso being it cannot be raised for three years.
---
Radio Page week ending November 24, 2017
radio in France, radio audience, Greater Paris radio, Mediametrie, RTL, Europe 1, France Inter, Europe 1, RMC, NRJ, Skyrock, FIP, Radio Latina
Radio Page week ending November 17, 2017
radio in France, Mediametrie, RTL, Europe 1, Lagardere, Radio France, France Inter, radio in the Czech Republic, Radio Projekt, radio audience, Radio Impuls, Cesky rozhlas, Radiozurnal, Evropa 2, Hitradio, Kiss
Radio Page week ending November 10, 2017
radio in Poland, digital radio, Polskie Radio, Radio Chopin
Radio Page week ending November 3, 2017
radio in Sweden, national radio licenses, Bauer Media, NRJ, MTG
Radio Page week ending October 27, 2017
radio in the UK, RAJAR, radio audience, BBC Radio, Radio 2, Radio, 4, Radio 1, commercial radio, Heart, Capital London, LBC, radio in Russia, Ekho Moskvy
Radio Page week ending October 20, 2017
radio in Turkey, radio audience, Nielsen/URYAD, Kral FM, TRT
Radio Page week ending October 13, 2017
radio in Italy, Radio Italia, Gruppo Espresso, Mediaset, Radio Subasio, radio in Sweden, radio advertising, digital advertising
Radio Page week ending October 6, 2017
streaming audio, podcasts, Financial Times, Amazon Polly, radio in Greece, Alter Ego Media, Vima FM, Lambrakis Press Group
Recently added radio audience figures and resources
---
Also see
ftm

Knowledge
Europe's Radio - Southern Europe
Radio broadcasting in southern Europe ranges from highly developed to developing highly. Italian, Spanish and Portuguese radio is unique, creative and very popular. Radio in Croatia, Serbia and Greece has had ups and downs. The ftm Knowledge file includes Resources. 126 pages PDF (June 2015)
Europe's Radio - Western Europe
Opportunity meets tradition in Western Europe's radio broadcasting. Change has come fast and yet oh, so slowly. This ftm Knowledge file contains material and resources on public and private radio broadcasting in Austria, Belgium, France, Germany, Liechtenstein, Netherlands and Switzerland. 244 pages. Resources. PDF (September 2013)
Europe's Radio – Eastern Europe
Eastern Europe's radio writes new rules. In fact, most everything about radio in this region is new... and changes often. The ftm Knowledge file reports on Belarus, Bulgaria, Czech Republic, Hungary, Moldova, Poland, Romania, Russia, Slovakia and Ukraine. 159 pages PDF (April 2013)
Europe's Radio – Northern Europe
Northern Europe's radio has a very digital sound. And change is in the air. Economic challenges abound for both public and commercial broadcasters. The ftm Knowledge file reports on Denmark, Estonia, Finland, Iceland, Ireland, Latvia, Lithuania, Norway, Sweden and the UK. 144 pages PDF includes Resources (November 2012)
Digital Radio - Possibilities and Probabilities
Digital radio has many platforms. From broadcast platforms to internet radio and rapidly emerging smartphone platforms, listeners and broadcasters have choices galore and decisions to make. Some regulators have made up their minds, others not, some hedging their bets. This ftm Knowledge file details the possibilities for digital broadcasting and the probabilities for success. Includes Resources 149 pages PDF (August 2012)
Become an
ftm

Individual or Corporate Member and receive Knowledge files at no charge. JOIN HERE!

ftm Knowledge files are available to non-Members at €49 each.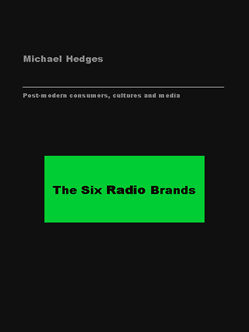 The Six Radio Brands is about the uniquely European development of radio brands. Competition among broadcasters - and certainly between the public and commercial sectors - gives radio in Europe a rich dynamic. As consumers become more media-literate and demand more attachment broadcasters find target markets illusive.
Regulators, advertisers and broadcasters take turns trying to influence radio brands. Culture and technology makes an impact. More and more, the greatest influence comes from consumers.
The Six Radio Brands describes advantages and pit-falls of brand strategies, with illustrations from current radio practice.
100 pages. 2004
Available at no charge to ftm Members, €49 for others. Email for more information