ftm

Radio Page - week ending November 24, 2017

Released this week are the Médiamétrie radio audience estimates for greater Paris - Il-de-France - through the September-October period. While Parisians traditionally go their own way compared with the national radio audience estimates, published a week earlier, similarities bare truth. Overall, slightly fewer Parisians - 73.9% versus 74.5%, one year on - were listening a bit more, on average 8 minutes. In the morning - 07h00-09h00 - listening levels were virtually unchanged.

General interest news-talk channel RTL clearly has the lead over public national news-talk channel France Inter. RTL attracted 15.3% audience share, up from 11.7% year on year, while France Inter dropped almost the same percentage to 12.0% from 15.8%. Of course, France Inter has lost several top show hosts and executives to Europe 1 in the last six months.

"Of course, there are transfers (of listeners) between all stations," explained RTL Group vice president Christopher Baldelli to Les Echos (November 16) as the national radio audience estimates were released. "But this is not by chance. The radio sector in France is hypercompetitive. People sometimes find it normal that RTL is the top radio station in France, but it's neither a status nor an asset: this is combat." (See more about media in France here)

In greater Paris, at least, Europe 1 managed to keep third place and slow the growth of another national news and talk channel, RMC, which was pushed back to 4th. All-news public channel France Info held 5th place, up slightly in audience share to 5.2% from 4.9% one year on.

Hit music channel NRJ and urban rap music Skyrock flipped positions; NRJ down to 3.7% audience share from 4.8%, Skyrock up to 3.8% from 2.7% year on year. RFM and FIP tied for 8th, both up. (See Greater Paris radio audience trend chart here - in Resources)

Local stations certainly shined, very eclectic public station FIP leading that group, to 2.9% audience share from 2.5% one year on. Radio Latina was up to 2.4% audience share from 1.6%, Voltage, Tropiques FM, Oui FM and Swigg (formerly Ado FM) also up. On aggregate the audience share for local stations grew to 17.7% from 15.1%.
---
Radio Page week ending November 17, 2017
radio in France, Mediametrie, RTL, Europe 1, Lagardere, Radio France, France Inter, radio in the Czech Republic, Radio Projekt, radio audience, Radio Impuls, Cesky rozhlas, Radiozurnal, Evropa 2, Hitradio, Kiss
Radio Page week ending November 10, 2017
radio in Poland, digital radio, Polskie Radio, Radio Chopin
Radio Page week ending November 3, 2017
radio in Sweden, national radio licenses, Bauer Media, NRJ, MTG
Radio Page week ending October 27, 2017
radio in the UK, RAJAR, radio audience, BBC Radio, Radio 2, Radio, 4, Radio 1, commercial radio, Heart, Capital London, LBC, radio in Russia, Ekho Moskvy
Radio Page week ending October 20, 2017
radio in Turkey, radio audience, Nielsen/URYAD, Kral FM, TRT
Radio Page week ending October 13, 2017
radio in Italy, Radio Italia, Gruppo Espresso, Mediaset, Radio Subasio, radio in Sweden, radio advertising, digital advertising
Radio Page week ending October 6, 2017
streaming audio, podcasts, Financial Times, Amazon Polly, radio in Greece, Alter Ego Media, Vima FM, Lambrakis Press Group
Radio Page week ending September 29, 2017
radio in France, Mediametrie, radio audience, RTL, France Inter, RMC, NRJ, Skyrock, radio in Belgium, radio licenses, local radio, SBS Radio, Hit FM, VBRO, Stadsradio Vlaanderen, TOPradio
Radio Page week ending September 22, 2017
radio in Norway, digital transition, DAB, Kantar TNS, radio in Germany, radio in Berlin, KCRW, NPR, mabb, AFN
Radio Page week ending September 15, 2017
streaming audio, workplace listening, music streaming, Spotify
Recently added radio audience figures and resources
---
Also see
ftm

Knowledge
Europe's Radio - Southern Europe
Radio broadcasting in southern Europe ranges from highly developed to developing highly. Italian, Spanish and Portuguese radio is unique, creative and very popular. Radio in Croatia, Serbia and Greece has had ups and downs. The ftm Knowledge file includes Resources. 126 pages PDF (June 2015)
Europe's Radio - Western Europe
Opportunity meets tradition in Western Europe's radio broadcasting. Change has come fast and yet oh, so slowly. This ftm Knowledge file contains material and resources on public and private radio broadcasting in Austria, Belgium, France, Germany, Liechtenstein, Netherlands and Switzerland. 244 pages. Resources. PDF (September 2013)
Europe's Radio – Eastern Europe
Eastern Europe's radio writes new rules. In fact, most everything about radio in this region is new... and changes often. The ftm Knowledge file reports on Belarus, Bulgaria, Czech Republic, Hungary, Moldova, Poland, Romania, Russia, Slovakia and Ukraine. 159 pages PDF (April 2013)
Europe's Radio – Northern Europe
Northern Europe's radio has a very digital sound. And change is in the air. Economic challenges abound for both public and commercial broadcasters. The ftm Knowledge file reports on Denmark, Estonia, Finland, Iceland, Ireland, Latvia, Lithuania, Norway, Sweden and the UK. 144 pages PDF includes Resources (November 2012)
Digital Radio - Possibilities and Probabilities
Digital radio has many platforms. From broadcast platforms to internet radio and rapidly emerging smartphone platforms, listeners and broadcasters have choices galore and decisions to make. Some regulators have made up their minds, others not, some hedging their bets. This ftm Knowledge file details the possibilities for digital broadcasting and the probabilities for success. Includes Resources 149 pages PDF (August 2012)
Become an
ftm

Individual or Corporate Member and receive Knowledge files at no charge. JOIN HERE!

ftm Knowledge files are available to non-Members at €49 each.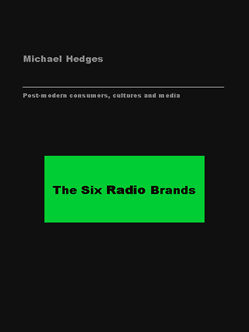 The Six Radio Brands is about the uniquely European development of radio brands. Competition among broadcasters - and certainly between the public and commercial sectors - gives radio in Europe a rich dynamic. As consumers become more media-literate and demand more attachment broadcasters find target markets illusive.
Regulators, advertisers and broadcasters take turns trying to influence radio brands. Culture and technology makes an impact. More and more, the greatest influence comes from consumers.
The Six Radio Brands describes advantages and pit-falls of brand strategies, with illustrations from current radio practice.
100 pages. 2004
Available at no charge to ftm Members, €49 for others. Email for more information