ftm

Radio Page - week ending September 15, 2017

For decades radio broadcasters have sought listeners at their workplaces. It was very logical: people spend more time at work. Times have, obviously, changed. The communal radio sitting on a file cabinet has been replaced by personal earbuds. Every listeners can choose exactly what they want, when they want it.

So, of course, there is a new study of workplace listening preferences. It's been published by professional social network LinkedIn and streaming music service Spotify. Results include intriguing details from France, Germany and the UK; similarities certainly, differences obviously. Across all those surveyed - details how that was carried out not revealed - there's a perception that music preferences impact an employee's image. You are what you listen to… or something.

Among French workers - and the survey appears to focus on office workers - the vast majority prefer pop music (55%), results reported by Les Echos (September 10). The top three artists are, in order, Coldplay, Adele and Ed Sheeran. No French artists in that top three, noted Les Echos. And don't be caught listening to French rap - very déclassé in the workplace. Techies prefer jazz, "luxury professionals" like hip-hop and the HR (human relations) team goes for heavy metal, which explains many things.

Three-quarters of German worker-bees listen to something while working and 72% say music keeps them motivated, compared with 65% of the French sample and 67% of the UK sample. The top three artists are, in order again, Ed Sheeran, Rihanna and Adele, reported Berliner Kurier (September 11). Rapper Eminem ranked least acceptable. Pop music is also the dominant style in Germany (66%), followed by rock (29%) and world music (17%). Classical music and hip hop lags. A quarter of those surveyed said it's rude to force colleagues to listen to your music.

"Office politics play an important role in the curation of any playlist with 10% of professionals admitting to judging their colleagues based on their musical tastes, so probably best to lay off on the acid house," wrote The Drum (September 7) about the UK results. Ed Sheeran, Coldplay and Bruno Mars are the most acceptable artists in the UK workplace. Eminem, again, dead last. "How we behave in the workplace plays a huge role in developing our professional brand so it's important to remember what you want to communicate about yourself to others, whether that's online or offline," said LinkedIn's Darain Faraz.
---
Radio Page week ending September 8, 2017
radio in Germany, VPRT, IFA, radio in China, digital radio, Radio Television Hong Kong, BBC World Service
Radio Page week ending September 1, 2017
radio in Bulgaria, Z Rock, bTV Media Group, CME, Oberon Radio Max, radio in Norway, digital radio, DAB, radio in Switzerland, Swiss Radio Day
Radio Page week ending August 25, 2017
radio in Switzerland, radio brands, Radio Lac, Yes FM, Media One
Radio Page week ending August 4, 2017
radio in the UK, radio audience, RAJAR, BBC Radio, public broadcasting, commercial radio, digital radio, Radio 2, Radio 1, Radio 4, Heart, 6Music, LBC, London radio
Radio Page week ending July 28, 2017
radio in France, Mediametrie, radio audience, Paris audience, radio in Italy, Radio 24, Gruppo 24 Ore, Radio Dimensione Suono
Radio Page week ending July 21, 2017
radio in France, Mediametrie, RTL, France Inter, Europe 1, RMC, France Info, Fun Radio, radio in Switzerland, radio audience, Mediapulse, Radio Fiume Ticino, Radio3i
Radio Page week ending July 14, 2017
radio in Denmark, radio in Norway, digital radio, digital transition, DAB, FM shut-off
Radio Page week ending July 7, 2017
radio in Spain, EGM, AIMC, national radio audience, Cadena SER, Cadena Cope, Los 40 Principales, Cadena 100, Radio Vox
Recently added radio audience figures and resources
---
Also see
ftm

Knowledge
Europe's Radio - Southern Europe
Radio broadcasting in southern Europe ranges from highly developed to developing highly. Italian, Spanish and Portuguese radio is unique, creative and very popular. Radio in Croatia, Serbia and Greece has had ups and downs. The ftm Knowledge file includes Resources. 126 pages PDF (June 2015)
Europe's Radio - Western Europe
Opportunity meets tradition in Western Europe's radio broadcasting. Change has come fast and yet oh, so slowly. This ftm Knowledge file contains material and resources on public and private radio broadcasting in Austria, Belgium, France, Germany, Liechtenstein, Netherlands and Switzerland. 244 pages. Resources. PDF (September 2013)
Europe's Radio – Eastern Europe
Eastern Europe's radio writes new rules. In fact, most everything about radio in this region is new... and changes often. The ftm Knowledge file reports on Belarus, Bulgaria, Czech Republic, Hungary, Moldova, Poland, Romania, Russia, Slovakia and Ukraine. 159 pages PDF (April 2013)
Europe's Radio – Northern Europe
Northern Europe's radio has a very digital sound. And change is in the air. Economic challenges abound for both public and commercial broadcasters. The ftm Knowledge file reports on Denmark, Estonia, Finland, Iceland, Ireland, Latvia, Lithuania, Norway, Sweden and the UK. 144 pages PDF includes Resources (November 2012)
Digital Radio - Possibilities and Probabilities
Digital radio has many platforms. From broadcast platforms to internet radio and rapidly emerging smartphone platforms, listeners and broadcasters have choices galore and decisions to make. Some regulators have made up their minds, others not, some hedging their bets. This ftm Knowledge file details the possibilities for digital broadcasting and the probabilities for success. Includes Resources 149 pages PDF (August 2012)
Become an
ftm

Individual or Corporate Member and receive Knowledge files at no charge. JOIN HERE!

ftm Knowledge files are available to non-Members at €49 each.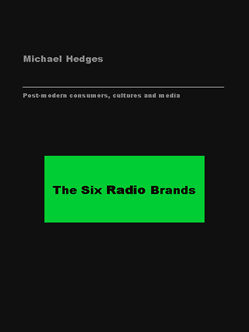 The Six Radio Brands is about the uniquely European development of radio brands. Competition among broadcasters - and certainly between the public and commercial sectors - gives radio in Europe a rich dynamic. As consumers become more media-literate and demand more attachment broadcasters find target markets illusive.
Regulators, advertisers and broadcasters take turns trying to influence radio brands. Culture and technology makes an impact. More and more, the greatest influence comes from consumers.
The Six Radio Brands describes advantages and pit-falls of brand strategies, with illustrations from current radio practice.
100 pages. 2004
Available at no charge to ftm Members, €49 for others. Email for more information