ftm

Radio Page - week ending September 1, 2017

Through several quirky twists there are now two radio channels in Bulgaria using variations on the name Z-Rock. The most recent operator of Z-Rock, bTV Media Group, found itself, mostly, without FM distribution, much of its on-air staff and competing with a new Z-Rock. bTV's Z-Rock, rebranded Radio Z-Rock, is relegated to web and streaming distribution.

The new Z-Rock is operated and, perhaps, also owned by Oberon Radio Max, which includes national radio channels FM+ and Fresh FM plus semi-regional stations Star FM and Sofia station Melody. The company was formed earlier this year by Vasil Dimitrov and others. Mr. Dimitrov had been radio director for bTV Media Group until June when he was abruptly dismissed.

Shortly thereafter Oberon Radio Max took over bTV's Melody station. It seems bTV has been operating radio stations under contract from separate license holders. Some of those agreements, which do not include all bTV's radio operations, have begun to expire and the licensees have been demanding more money. In a statement, bTV Media Group said it would "defend" its intellectual property rights to the name Z-Rock, including the web domain name.

The complication dates back more than a decade, explained business news portal capital.bg (August 31). Advertising broker Krasimir Gergov was, nominally, a consultant to Balkan News Corporation, a subsidiary of News Corporation, When News Corporation exited Bulgaria in 2010 selling the bTV portfolio to Central European Media Enterprises (CME) minority shareholder Krasimir Gergov retained certain rights, including an ad sales deal that eventually - and publicly - went upside down. CME also acquired the 74% stake in CJ Radio Company, which operated several radio channels, retaining founder and executive director, the aforementioned Mr. Dimitrov. (See more about media in Bulgaria here)

Throughout this year CME, principally owned by Time Warner, has shed and replaced several bTV Media Group executives. Last December Florian Skala was brought in as chief executive. Then came a new finance director and TV sales director. In August Mr. Skala quashed local rumors that Time Warner would shed bTV. Since taking management control of CME, Time Warner has replaced several local fixers who have dotted their spreadsheets in several countries.

Norwegians are flocking to the stores for consumer electronics, reported the Norwegian Electronics Industry Association (Stiftelsen Elektronikkbransjen), quoted by ABC Nyheter (August 25). Total sales up 14% over the same period last year. Thirty-five percent of retail electronics store sales were DAB receivers, a jump from 19% during the same period last year. Nobody is surprised; Norway is about half-way through its phased shut-down of most FM radio distribution.

Sales of DAB adapters for automobiles were also up about 10%, and headphones sales were up, too. Big screen TVs account for nearly half consumer electronics sales. National and regional radio channels will completely leave the FM band early next year. (See more about digital radio here)

Swiss broadcasters attending the annual Swiss Radio Day last week were also treated to a progress report on DAB listening. For the first time, according to a survey from digital radio support group DigiMig, FM radio listening in many subcategories has fallen below 50%. The FM share of all radio listening has slipped to 43% from 51% in the 18 months to spring 2017. The DAB+ share has risen to 32% from 23%. The online listening share is 25%. The biggest increase for digital platforms has come from listeners in automobiles. Listeners under 55 years are switching to online radio platforms, older listeners are going for for DAB+.
---
Radio Page week ending August 25, 2017
radio in Switzerland, radio brands, Radio Lac, Yes FM, Media One
Radio Page week ending August 4, 2017
radio in the UK, radio audience, RAJAR, BBC Radio, public broadcasting, commercial radio, digital radio, Radio 2, Radio 1, Radio 4, Heart, 6Music, LBC, London radio
Radio Page week ending July 28, 2017
radio in France, Mediametrie, radio audience, Paris audience, radio in Italy, Radio 24, Gruppo 24 Ore, Radio Dimensione Suono
Radio Page week ending July 21, 2017
radio in France, Mediametrie, RTL, France Inter, Europe 1, RMC, France Info, Fun Radio, radio in Switzerland, radio audience, Mediapulse, Radio Fiume Ticino, Radio3i
Radio Page week ending July 14, 2017
radio in Denmark, radio in Norway, digital radio, digital transition, DAB, FM shut-off
Radio Page week ending July 7, 2017
radio in Spain, EGM, AIMC, national radio audience, Cadena SER, Cadena Cope, Los 40 Principales, Cadena 100, Radio Vox
Recently added radio audience figures and resources
---
Also see
ftm

Knowledge
Europe's Radio - Southern Europe
Radio broadcasting in southern Europe ranges from highly developed to developing highly. Italian, Spanish and Portuguese radio is unique, creative and very popular. Radio in Croatia, Serbia and Greece has had ups and downs. The ftm Knowledge file includes Resources. 126 pages PDF (June 2015)
Europe's Radio - Western Europe
Opportunity meets tradition in Western Europe's radio broadcasting. Change has come fast and yet oh, so slowly. This ftm Knowledge file contains material and resources on public and private radio broadcasting in Austria, Belgium, France, Germany, Liechtenstein, Netherlands and Switzerland. 244 pages. Resources. PDF (September 2013)
Europe's Radio – Eastern Europe
Eastern Europe's radio writes new rules. In fact, most everything about radio in this region is new... and changes often. The ftm Knowledge file reports on Belarus, Bulgaria, Czech Republic, Hungary, Moldova, Poland, Romania, Russia, Slovakia and Ukraine. 159 pages PDF (April 2013)
Europe's Radio – Northern Europe
Northern Europe's radio has a very digital sound. And change is in the air. Economic challenges abound for both public and commercial broadcasters. The ftm Knowledge file reports on Denmark, Estonia, Finland, Iceland, Ireland, Latvia, Lithuania, Norway, Sweden and the UK. 144 pages PDF includes Resources (November 2012)
Digital Radio - Possibilities and Probabilities
Digital radio has many platforms. From broadcast platforms to internet radio and rapidly emerging smartphone platforms, listeners and broadcasters have choices galore and decisions to make. Some regulators have made up their minds, others not, some hedging their bets. This ftm Knowledge file details the possibilities for digital broadcasting and the probabilities for success. Includes Resources 149 pages PDF (August 2012)
Become an
ftm

Individual or Corporate Member and receive Knowledge files at no charge. JOIN HERE!

ftm Knowledge files are available to non-Members at €49 each.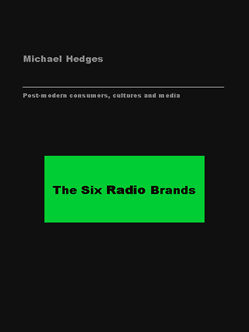 The Six Radio Brands is about the uniquely European development of radio brands. Competition among broadcasters - and certainly between the public and commercial sectors - gives radio in Europe a rich dynamic. As consumers become more media-literate and demand more attachment broadcasters find target markets illusive.
Regulators, advertisers and broadcasters take turns trying to influence radio brands. Culture and technology makes an impact. More and more, the greatest influence comes from consumers.
The Six Radio Brands describes advantages and pit-falls of brand strategies, with illustrations from current radio practice.
100 pages. 2004
Available at no charge to ftm Members, €49 for others. Email for more information