ftm

Radio Page - week ending August 25, 2017

Brand names are important for radio broadcasters, even with constantly shifting platforms. Some brand names stand out, others don't. Broadcasters invest significantly on a names fitting the marketing identify. There's no science to it; well, maybe a little.

Swiss radio station Yes FM will be re-branded in the coming days (August 28). After nearly a decade the name will revert to Radio Lac, revealed Media One Group general director Alexandre de Raemy to Tribune de Geneve (August 20). The station will focus on Geneva, in French-speaking Switzerland; hence the name referring to Lac Leman, the great big lake. "The whole strategy is based on editorial content and the sharing of opinions," he said, explaining the shift from all-music to more speech.

Media One Group, licensee of Geneva stations One FM and LFM, and Rouge Group, licensee of Lausanne stations Yes FM and Rouge FM plus the Rouge TV channel, consolidated last April. M. de Raemy, principal owner, indicated a new plan "to restart" Yes FM was coming. One FM is primarily a hit music station, competing with the NRJ franchises in French-speaking Switzerland. LFM is focused on Lausanne and Rouge FM serves north-central exurbs.

The original Radio Lac appeared more than 30 years ago, one of the first privately-owned radio stations in Switzerland. Most of those years were financially successful. By 2009 the original owner exited, the name changing to Yes FM and orientation shifting away from Geneva. More recently French owned stations operating in the region have picked up audience share while giant regional public general interest channel La Premiere has seen shares softening.
---
Radio Page week ending August 4, 2017
radio in the UK, radio audience, RAJAR, BBC Radio, public broadcasting, commercial radio, digital radio, Radio 2, Radio 1, Radio 4, Heart, 6Music, LBC, London radio
Radio Page week ending July 28, 2017
radio in France, Mediametrie, radio audience, Paris audience, radio in Italy, Radio 24, Gruppo 24 Ore, Radio Dimensione Suono
Radio Page week ending July 21, 2017
radio in France, Mediametrie, RTL, France Inter, Europe 1, RMC, France Info, Fun Radio, radio in Switzerland, radio audience, Mediapulse, Radio Fiume Ticino, Radio3i
Radio Page week ending July 14, 2017
radio in Denmark, radio in Norway, digital radio, digital transition, DAB, FM shut-off
Radio Page week ending July 7, 2017
radio in Spain, EGM, AIMC, national radio audience, Cadena SER, Cadena Cope, Los 40 Principales, Cadena 100, Radio Vox
Recently added radio audience figures and resources
---
Also see
ftm

Knowledge
Europe's Radio - Southern Europe
Radio broadcasting in southern Europe ranges from highly developed to developing highly. Italian, Spanish and Portuguese radio is unique, creative and very popular. Radio in Croatia, Serbia and Greece has had ups and downs. The ftm Knowledge file includes Resources. 126 pages PDF (June 2015)
Europe's Radio - Western Europe
Opportunity meets tradition in Western Europe's radio broadcasting. Change has come fast and yet oh, so slowly. This ftm Knowledge file contains material and resources on public and private radio broadcasting in Austria, Belgium, France, Germany, Liechtenstein, Netherlands and Switzerland. 244 pages. Resources. PDF (September 2013)
Europe's Radio – Eastern Europe
Eastern Europe's radio writes new rules. In fact, most everything about radio in this region is new... and changes often. The ftm Knowledge file reports on Belarus, Bulgaria, Czech Republic, Hungary, Moldova, Poland, Romania, Russia, Slovakia and Ukraine. 159 pages PDF (April 2013)
Europe's Radio – Northern Europe
Northern Europe's radio has a very digital sound. And change is in the air. Economic challenges abound for both public and commercial broadcasters. The ftm Knowledge file reports on Denmark, Estonia, Finland, Iceland, Ireland, Latvia, Lithuania, Norway, Sweden and the UK. 144 pages PDF includes Resources (November 2012)
Digital Radio - Possibilities and Probabilities
Digital radio has many platforms. From broadcast platforms to internet radio and rapidly emerging smartphone platforms, listeners and broadcasters have choices galore and decisions to make. Some regulators have made up their minds, others not, some hedging their bets. This ftm Knowledge file details the possibilities for digital broadcasting and the probabilities for success. Includes Resources 149 pages PDF (August 2012)
Become an
ftm

Individual or Corporate Member and receive Knowledge files at no charge. JOIN HERE!

ftm Knowledge files are available to non-Members at €49 each.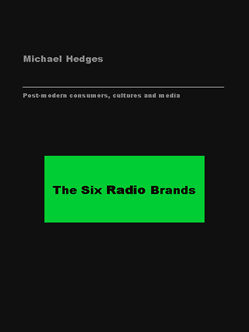 The Six Radio Brands is about the uniquely European development of radio brands. Competition among broadcasters - and certainly between the public and commercial sectors - gives radio in Europe a rich dynamic. As consumers become more media-literate and demand more attachment broadcasters find target markets illusive.
Regulators, advertisers and broadcasters take turns trying to influence radio brands. Culture and technology makes an impact. More and more, the greatest influence comes from consumers.
The Six Radio Brands describes advantages and pit-falls of brand strategies, with illustrations from current radio practice.
100 pages. 2004
Available at no charge to ftm Members, €49 for others. Email for more information