ftm

Radio Page - week ending September 8, 2017

A status report on digital radio in Germany presented at the IFA consumer electronics show in Berlin shows more people with access to DAB+ receiving devices; 15.1% of households up from 12.6% one year on. Internet radio devices also grew; 9.7% of households up from 8.6%. FM receiving devices remain vastly dominant; 92.9% of households, slightly lower from 93.3%.

The report calculates about 2.5 million Germans over 14 year listening daily to a DAB+ channel, on average about 29 minutes per day. The survey was prepared by Kantar TNS. Next year the AG.MA audience estimates will integrate DAB+ stations. (See more about media in Germany here)

As usual, public and private-sector broadcasters are divided on a continuing digital strategy. "DAB+ is enormously important because we only reach a part of our potential listeners with FM, " said new public radio network Deutschlandradio director Stefan Raue at the presentation, quoted by dwdl.de (September 6). "The choice of equipment is enormous. Now, the necessary work for DAB+ is political." (See more about digital radio here)

"In the discussion about DAB + the political will seems to have reached the point of no return," said private broadcasters association VPRT radio president Klaus Schunk. "The concerns of private radio operators on digital migration of terrestrial radio broadcasting have not been taken into account in the political decision-making process." VPRT members have long been DAB-sceptics and removed themselves from the German digital radio support group earlier this year.

Their plan - presented at the IFA radio day - includes several concrete steps to digital radio development. First, quite naturally, is money; promoting digital transition will cost €500 million currently not available through normal revenue streams. FM shut-off, another point, shouldn't happen until FM usage falls below 10% of all listening. "The mere existence of receiving equipment is not a sufficient benchmark." (See the VPRT statement here - in German) They also want a three-year transition period.

A flurry of news reports in recent days have told of Radio Television Hong Kong (RTHK), the government broadcaster, dropping the BBC World Service (BBC WS) in favor of China National Radio (CNR) Hong Kong Edition. Petitioners against the change, according to Reuters (September 4), said Hong Kong will "feel more parochial and inward-looking." The CNR channel will replace BBC WS on RTHK Radio 6, an AM/MW channel. BBC WS distribution will continue on the internet and satellite.

That is only part of the story. Six months ago RTHK announced it would be dropping its 5-channel DAB+ (digital audio broadcasting) multiplex as "unrealistic," reported South China Morning Post (SCMP - March 28). Three commercial DAB+ multiplex operators had already dropped away, returning their licenses. RTHK cited "weak demand" for shutting down the DAB+ channels; Hong Kong listeners firmly attached to those mobile devices. (See more about digital radio here)

Chinese authorities have never embraced media plurality. The government controls just about every source of information and entertainment. The State's thumb has been firmly placed on Hong Kong since the 20th anniversary this past summer of British withdrawal. The official "one state, two systems" principle is fading. (See more about media in China here)

BBC WS occupied one of the DAB+ channels 24/7. The international broadcaster, renowned as an independent media voice, began broadcasting in Hong Kong in 1978. RTHK was established in 1928, based on the BBC model. After September 4th BBC WS will be heard overnights only on RTHK Radio 4, an FM channel.
---
Radio Page week ending September 1, 2017
radio in Bulgaria, Z Rock, bTV Media Group, CME, Oberon Radio Max, radio in Norway, digital radio, DAB, radio in Switzerland, Swiss Radio Day
Radio Page week ending August 25, 2017
radio in Switzerland, radio brands, Radio Lac, Yes FM, Media One
Radio Page week ending August 4, 2017
radio in the UK, radio audience, RAJAR, BBC Radio, public broadcasting, commercial radio, digital radio, Radio 2, Radio 1, Radio 4, Heart, 6Music, LBC, London radio
Radio Page week ending July 28, 2017
radio in France, Mediametrie, radio audience, Paris audience, radio in Italy, Radio 24, Gruppo 24 Ore, Radio Dimensione Suono
Radio Page week ending July 21, 2017
radio in France, Mediametrie, RTL, France Inter, Europe 1, RMC, France Info, Fun Radio, radio in Switzerland, radio audience, Mediapulse, Radio Fiume Ticino, Radio3i
Radio Page week ending July 14, 2017
radio in Denmark, radio in Norway, digital radio, digital transition, DAB, FM shut-off
Radio Page week ending July 7, 2017
radio in Spain, EGM, AIMC, national radio audience, Cadena SER, Cadena Cope, Los 40 Principales, Cadena 100, Radio Vox
Recently added radio audience figures and resources
---
Also see
ftm

Knowledge
Europe's Radio - Southern Europe
Radio broadcasting in southern Europe ranges from highly developed to developing highly. Italian, Spanish and Portuguese radio is unique, creative and very popular. Radio in Croatia, Serbia and Greece has had ups and downs. The ftm Knowledge file includes Resources. 126 pages PDF (June 2015)
Europe's Radio - Western Europe
Opportunity meets tradition in Western Europe's radio broadcasting. Change has come fast and yet oh, so slowly. This ftm Knowledge file contains material and resources on public and private radio broadcasting in Austria, Belgium, France, Germany, Liechtenstein, Netherlands and Switzerland. 244 pages. Resources. PDF (September 2013)
Europe's Radio – Eastern Europe
Eastern Europe's radio writes new rules. In fact, most everything about radio in this region is new... and changes often. The ftm Knowledge file reports on Belarus, Bulgaria, Czech Republic, Hungary, Moldova, Poland, Romania, Russia, Slovakia and Ukraine. 159 pages PDF (April 2013)
Europe's Radio – Northern Europe
Northern Europe's radio has a very digital sound. And change is in the air. Economic challenges abound for both public and commercial broadcasters. The ftm Knowledge file reports on Denmark, Estonia, Finland, Iceland, Ireland, Latvia, Lithuania, Norway, Sweden and the UK. 144 pages PDF includes Resources (November 2012)
Digital Radio - Possibilities and Probabilities
Digital radio has many platforms. From broadcast platforms to internet radio and rapidly emerging smartphone platforms, listeners and broadcasters have choices galore and decisions to make. Some regulators have made up their minds, others not, some hedging their bets. This ftm Knowledge file details the possibilities for digital broadcasting and the probabilities for success. Includes Resources 149 pages PDF (August 2012)
Become an
ftm

Individual or Corporate Member and receive Knowledge files at no charge. JOIN HERE!

ftm Knowledge files are available to non-Members at €49 each.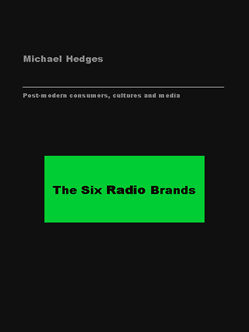 The Six Radio Brands is about the uniquely European development of radio brands. Competition among broadcasters - and certainly between the public and commercial sectors - gives radio in Europe a rich dynamic. As consumers become more media-literate and demand more attachment broadcasters find target markets illusive.
Regulators, advertisers and broadcasters take turns trying to influence radio brands. Culture and technology makes an impact. More and more, the greatest influence comes from consumers.
The Six Radio Brands describes advantages and pit-falls of brand strategies, with illustrations from current radio practice.
100 pages. 2004
Available at no charge to ftm Members, €49 for others. Email for more information