ftm

Radio Page - week ending October 6, 2017

Audio streaming is typically associated with music. And it's very popular. Smartphones made it very, very popular, to the distress of traditional radio broadcasters.

From drama to comedy to news and sports, spoken word content streamed or downloaded to the ubiquitous hand-held accessory is also on the rise. The delivery process is commonly referred to as podcasts, sort of an offshoot of RSS, and named, obviously, for the Apple iPod. This past summer Apple stopped making iPods with the exception of the iPod Touch, the all-purpose player, camera and PDA. Anyway, smartphones can retrieve podcasts and other sorts of downloads and streams.

Podcasts have definitely hit the mainstream. In the last week or so Forbes had pieces on podcasts in business (October 2 and September 28) and PR (September 22). The New York Times (October 4) had a piece about podcasts as deliverer of bedtime stories and the Financial Times (September 29) had a piece on storytelling with podcasts generally. All point to the attention generated by the non-fiction audio series Serial, initially from US public broadcaster WBEZ. (See more about streaming media here)

Many radio broadcasters has assiduously avoided spoken word content over the last few decades. Speech content, of course, requires paying human beings to talk, very unpopular with the shareholders. The rise of music streaming services like Spotify also challenges radio broadcasters.

With a little help from tech-retail-media giant Amazon, the aforementioned Financial Times (FT) is joining the audio frenzy, reported digiday.com (October 2). FT articles are being converted to speech with the Amazon Polly system, voice provided by Amy, one of several artificial voices available through the text to speech translator. The Washington Post began "experimenting" with Polly this past summer. The FT has a smartphone app for Amy's news reports.

Radio broadcasting in Greece, along with the rest of the media sector, has been undergoing vast changes. News talk radio station Vima FM, serving greater Athens since 2009, has been operating under challenging circumstances since September 20th when electric power to the station was "cut," other bills also unpaid. Greek media watchers have come to the conclusion that Vima FM has been "abandoned" by its new owner, Alter Ego Media, noted radiofono.gr (September 28).

Greek shipping tycoon Evangelos Marinakis, through newly formed Alter Ego Media, succeeded in the bidding for the bankrupt Lambrakis Press Group in July. Assets included leading newspapers To Vima and Ta Nea, magazines, websites and radio station Vima FM. Earlier, nearly a year ago, Alter Ego Media was awarded a national terrestrial television license in a government auction meant to overhaul the "corrupt private broadcasting landscape," as described at the time by Media and Digital Minister Nikos Pappas. In the Lambrakis Press Group auction Alter Ego Media obtained a 20% stake in TV channel Mega, which was denied renewal in the new license scheme. The entire process was a disaster, to be generous, with squabbles among owners, bidders, lawyers and politicians still unresolved. (See more about media in Greece here)

Vima FM has "severe liquidity problems," said an unnamed source, quoted by e-tetradio.gr (September 21). So far, Alter Ego Media has not returned the license, as specified by media regulator NCRTV when a radio station has been off the air for more than seven days. Other Greek radio stations - notably Sport FM and Party FM - have recently scaled back operations.
---
Radio Page week ending September 29, 2017
radio in France, Mediametrie, radio audience, RTL, France Inter, RMC, NRJ, Skyrock, radio in Belgium, radio licenses, local radio, SBS Radio, Hit FM, VBRO, Stadsradio Vlaanderen, TOPradio
Radio Page week ending September 22, 2017
radio in Norway, digital transition, DAB, Kantar TNS, radio in Germany, radio in Berlin, KCRW, NPR, mabb, AFN
Radio Page week ending September 15, 2017
streaming audio, workplace listening, music streaming, Spotify
Radio Page week ending September 8, 2017
radio in Germany, VPRT, IFA, radio in China, digital radio, Radio Television Hong Kong, BBC World Service
Radio Page week ending September 1, 2017
radio in Bulgaria, Z Rock, bTV Media Group, CME, Oberon Radio Max, radio in Norway, digital radio, DAB, radio in Switzerland, Swiss Radio Day
Radio Page week ending August 25, 2017
radio in Switzerland, radio brands, Radio Lac, Yes FM, Media One
Radio Page week ending August 4, 2017
radio in the UK, radio audience, RAJAR, BBC Radio, public broadcasting, commercial radio, digital radio, Radio 2, Radio 1, Radio 4, Heart, 6Music, LBC, London radio
Radio Page week ending July 28, 2017
radio in France, Mediametrie, radio audience, Paris audience, radio in Italy, Radio 24, Gruppo 24 Ore, Radio Dimensione Suono
Radio Page week ending July 21, 2017
radio in France, Mediametrie, RTL, France Inter, Europe 1, RMC, France Info, Fun Radio, radio in Switzerland, radio audience, Mediapulse, Radio Fiume Ticino, Radio3i
Radio Page week ending July 14, 2017
radio in Denmark, radio in Norway, digital radio, digital transition, DAB, FM shut-off
Radio Page week ending July 7, 2017
radio in Spain, EGM, AIMC, national radio audience, Cadena SER, Cadena Cope, Los 40 Principales, Cadena 100, Radio Vox
Recently added radio audience figures and resources
---
Also see
ftm

Knowledge
Europe's Radio - Southern Europe
Radio broadcasting in southern Europe ranges from highly developed to developing highly. Italian, Spanish and Portuguese radio is unique, creative and very popular. Radio in Croatia, Serbia and Greece has had ups and downs. The ftm Knowledge file includes Resources. 126 pages PDF (June 2015)
Europe's Radio - Western Europe
Opportunity meets tradition in Western Europe's radio broadcasting. Change has come fast and yet oh, so slowly. This ftm Knowledge file contains material and resources on public and private radio broadcasting in Austria, Belgium, France, Germany, Liechtenstein, Netherlands and Switzerland. 244 pages. Resources. PDF (September 2013)
Europe's Radio – Eastern Europe
Eastern Europe's radio writes new rules. In fact, most everything about radio in this region is new... and changes often. The ftm Knowledge file reports on Belarus, Bulgaria, Czech Republic, Hungary, Moldova, Poland, Romania, Russia, Slovakia and Ukraine. 159 pages PDF (April 2013)
Europe's Radio – Northern Europe
Northern Europe's radio has a very digital sound. And change is in the air. Economic challenges abound for both public and commercial broadcasters. The ftm Knowledge file reports on Denmark, Estonia, Finland, Iceland, Ireland, Latvia, Lithuania, Norway, Sweden and the UK. 144 pages PDF includes Resources (November 2012)
Digital Radio - Possibilities and Probabilities
Digital radio has many platforms. From broadcast platforms to internet radio and rapidly emerging smartphone platforms, listeners and broadcasters have choices galore and decisions to make. Some regulators have made up their minds, others not, some hedging their bets. This ftm Knowledge file details the possibilities for digital broadcasting and the probabilities for success. Includes Resources 149 pages PDF (August 2012)
Become an
ftm

Individual or Corporate Member and receive Knowledge files at no charge. JOIN HERE!

ftm Knowledge files are available to non-Members at €49 each.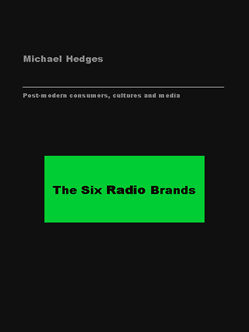 The Six Radio Brands is about the uniquely European development of radio brands. Competition among broadcasters - and certainly between the public and commercial sectors - gives radio in Europe a rich dynamic. As consumers become more media-literate and demand more attachment broadcasters find target markets illusive.
Regulators, advertisers and broadcasters take turns trying to influence radio brands. Culture and technology makes an impact. More and more, the greatest influence comes from consumers.
The Six Radio Brands describes advantages and pit-falls of brand strategies, with illustrations from current radio practice.
100 pages. 2004
Available at no charge to ftm Members, €49 for others. Email for more information