ftm

Radio Page - week ending June 16, 2017

New Polish national radio audience estimates were released this week. The three month (March - May) survey shows, among other tidbits, further depreciating State broadcaster Polskie Radio (PR) channels. Ranking changes were slight, at least at the top. The Millward Brown Radio Track data was provided, as usual, by Polish media portal wirtualnemedia.pl (June 14).

RMF FM held top top position with a commanding lead over all others in the national survey of persons 15 to 75, up slightly to 25.2% market share from 25.0% year on year. Perennial second place Radio ZET dropped to 13.3% market share from 13.6%. RMF FM is a full service adult contemporary (A/C) channel principally owned by Bauer Media. Radio ZET is also a full service A/C channel, principally owned by Lagardère Active Radio. Both have national coverage. (See Poland national radio market share trend chart here - in Resources)

The other full service A/C channel is Polskie Radio Jedynka, which held third place, dropping to 8.0% market share, lowest in years, from 8.4%. Dropping even more conspicuously, though remaining 4th, was alternative music channel PR Trojka, 7.0% market share from 8.0%. All Polskie Radio channels underwent management and programming changes last year, reflecting direction from the ruling populist/nationalist Law and Justice (PiS) party. (See more about media in Poland here) Cultural channel PR Dwojka was slightly down at 0.5% market share. All news PR Radio 24, new to FM distribution last September, was up slightly to 0.4%.

Fifth place went to dance "super regional" channel VOX FM, up slightly to 4.2% market share. Next came the two channels gaining most one year on. News and information TOK FM, principally owned by publisher Agora, placed 6th with 2.4% market share, up from 1.9%. Alternative rock channel Antyradio, principally owned by Lagardère Active Radio, rose to 7th in the rankings to 1.8% market share from 1.3%. Religious channel Radio Maryja fell to 8th with 1.6% market share.

Dutch public broadcaster NPO Radio 1 investigative news programs Argos and Reporter Radio will no longer have weekly one-hour slots but will alternate every other week. Budgets will be significantly reduced. Both programs will move to Saturday afternoon, the normal time slot for Argos, from January 1st. A draft of NPO's 2018 strategic plan for radio (Jaarplan Radio 2018) was obtained by Volkskrant (June 15).

Radio 1 station manager Laurens Borst described the reductions as benefiting the program's quality. "We want to invest in quality and impact. It's still premature to say that certain programs are getting less broadcasting time or budget." The NPO board will vote of the annual plan by the end of June with an official report in September, major changes are not expected.

"Year after year we get compliments, now Borst says suddenly we are not innovative enough. In times of fake news, NPO must invest in hardcore investigations," said Argos editorial director Kees van den Bosch. "Instead, they delete 26 hours of Argos and 30 percent of our budget. Whoever calls that a decision on quality, argues like a bookkeeper." (See more about media in the Netherlands here)

This being the digital age, reactions to the news jumped out all over social media. "Really wrong development this," noted retired Dutch politician and diplomat Frans Weisglas. "These programs are the core of public broadcasting." Also on Twitter, quoted by rtlnieuws.nl (June 15), said another politician, "How is investigative journalism 'not innovative enough'? What's good is good."

Public broadcasting has a unique organzation in the Netherlands. NPO acts, essentially, as a distributor for programs and segments produced by NGOs and special interest groups, some being political. Argos is produced by VPRO, originally the broadcaster of the Protestant church, VARA, originally the amateur radio association, and Human, a humanist organizsation. Reporter Radio is produced by KRO-NCRV, a joint broadcasting service of the Catholic and Dutch Reformed churches. Both programs have won Dutch and international awards for reporting. Argos has been on the air for 25 years.
---
Radio Page week ending June 9, 2017
radio in the UK, music charts, protest songs, elections and media
Radio Page week ending June 2, 2017
radio in the UK, music charts, protest songs, elections and media
Radio Page week ending May 26, 2017
radio in Switzerland, digital radio, FM transition, DETEC, radio in France, RTL Radio, Groupe M6, RTL Group
Radio Page week ending May 19, 2017
radio in Portugal, Radio Comercial, RFM, M80, Radio Renascenca, RTL, Antena 1, radio in the UK, radio audience, RAJAR, BBC Radio, public broadcasting, commercial radio, Radio 2, Radio 1, Radio 4, Heart, 6Music, LBC, Global Radio, radio advertising
Radio Page week ending May 12, 2017
radio in Norway, NRK, outside broadcasts
Radio Page week ending May 5, 2017
radio in the UK, Fix Radio, digital radio, DAB
Radio Page week ending April 28, 2017
radio in France, Paris radio audience, Mediametrie, RTL, Radio France, France Inter, Europe 1, Lagardere Active, NRJ, Skyrock, Radio Classique, Mouv', Radio Latina, Radio Nova, TSF Jazz
Radio Page week ending April 21, 2017
radio in France, radio audience, Mediametrie, RTL, Radio France, news radio, France Inter, Europe 1, Lagardere Active, NRJ, RFM, RTL2, Skyrock
Radio Page week ending April 14, 2017
radio in the Czech Republic, Radia Dalnice, RRTV, FM licenses, highway radio, Isoradio, Avtoradio
Radio Page week ending April 7, 2017
radio in the Czech Republic, Kiss, RRTV, Radio United Broadcasting, radio licenses, millennials
Recently added radio audience figures and resources
---
Also see
ftm

Knowledge
Europe's Radio - Southern Europe
Radio broadcasting in southern Europe ranges from highly developed to developing highly. Italian, Spanish and Portuguese radio is unique, creative and very popular. Radio in Croatia, Serbia and Greece has had ups and downs. The ftm Knowledge file includes Resources. 126 pages PDF (June 2015)
Europe's Radio - Western Europe
Opportunity meets tradition in Western Europe's radio broadcasting. Change has come fast and yet oh, so slowly. This ftm Knowledge file contains material and resources on public and private radio broadcasting in Austria, Belgium, France, Germany, Liechtenstein, Netherlands and Switzerland. 244 pages. Resources. PDF (September 2013)
Europe's Radio – Eastern Europe
Eastern Europe's radio writes new rules. In fact, most everything about radio in this region is new... and changes often. The ftm Knowledge file reports on Belarus, Bulgaria, Czech Republic, Hungary, Moldova, Poland, Romania, Russia, Slovakia and Ukraine. 159 pages PDF (April 2013)
Europe's Radio – Northern Europe
Northern Europe's radio has a very digital sound. And change is in the air. Economic challenges abound for both public and commercial broadcasters. The ftm Knowledge file reports on Denmark, Estonia, Finland, Iceland, Ireland, Latvia, Lithuania, Norway, Sweden and the UK. 144 pages PDF includes Resources (November 2012)
Digital Radio - Possibilities and Probabilities
Digital radio has many platforms. From broadcast platforms to internet radio and rapidly emerging smartphone platforms, listeners and broadcasters have choices galore and decisions to make. Some regulators have made up their minds, others not, some hedging their bets. This ftm Knowledge file details the possibilities for digital broadcasting and the probabilities for success. Includes Resources 149 pages PDF (August 2012)
Become an
ftm

Individual or Corporate Member and receive Knowledge files at no charge. JOIN HERE!

ftm Knowledge files are available to non-Members at €49 each.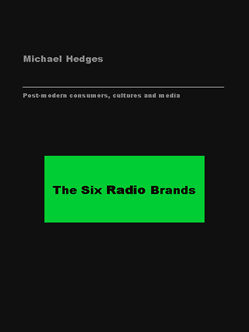 The Six Radio Brands is about the uniquely European development of radio brands. Competition among broadcasters - and certainly between the public and commercial sectors - gives radio in Europe a rich dynamic. As consumers become more media-literate and demand more attachment broadcasters find target markets illusive.
Regulators, advertisers and broadcasters take turns trying to influence radio brands. Culture and technology makes an impact. More and more, the greatest influence comes from consumers.
The Six Radio Brands describes advantages and pit-falls of brand strategies, with illustrations from current radio practice.
100 pages. 2004
Available at no charge to ftm Members, €49 for others. Email for more information